Community
Mark's passion for supporting the community and his dedication to charity has directed him to become Australia Day ambassador in 2015, 2016, 2017, and 2018.
A New Look for Brooke
"Mark Warren, you're an absolute legend and the ultimate professional. You made this night, "A New Look for Brooke", brother. How you worked and interacted with the audience made this event as successful as it ended up to be. As we speak, funds raised for the night "A New Look for Brooke" are well above expectations and in excess of $90K.
– Brad Bruton, Event Organiser
"Mark, mate thank you so much for taking the time to attend my little girl's night and for being the MC for the event. Wow, what a great job you did! The smile that was on my girl's face was priceless, as we haven't seen it for a while now. Not only did you attend the event, you also brought with you two other legends Mark MG Geyer and Gary Freeman. We thank you from the bottom of our hearts! We had an amazing night!"
– Jason Turnbull, Father of Brooke Turnbull
"As a broadcaster, there is no one more promising in Australia. As a Master of Ceremonies, he is already at the top of the tree."
– Ken Callander
Ronald McDonald House
"Mark was recently our auctioneer at the Sydney Airport Christmas Giving Appeal luncheon held in a hangar at the airport. The event was unique and ended up being a huge success. Mark entertained and engaged our guests who were extremely generous in their donations and bidding. Funds raised from the event supported the work of Ronald McDonald House across Australia. Thank you, Mark!"
–  Adele McIntosh National Development Manager Ronald McDonald House
Michael Simmons night
"Thank you mate for your efforts last Saturday Night as our Master of Ceremonies and Auctioneer. Michael is suffering from stage four Pancreatic Cancer and as the head of a large young family, his financial situation has become a challenge. We were successful in raising $55,405.70 far beyond the target I had envisaged. Well done, Mark!"
– Jason Ellsmore, Event Organiser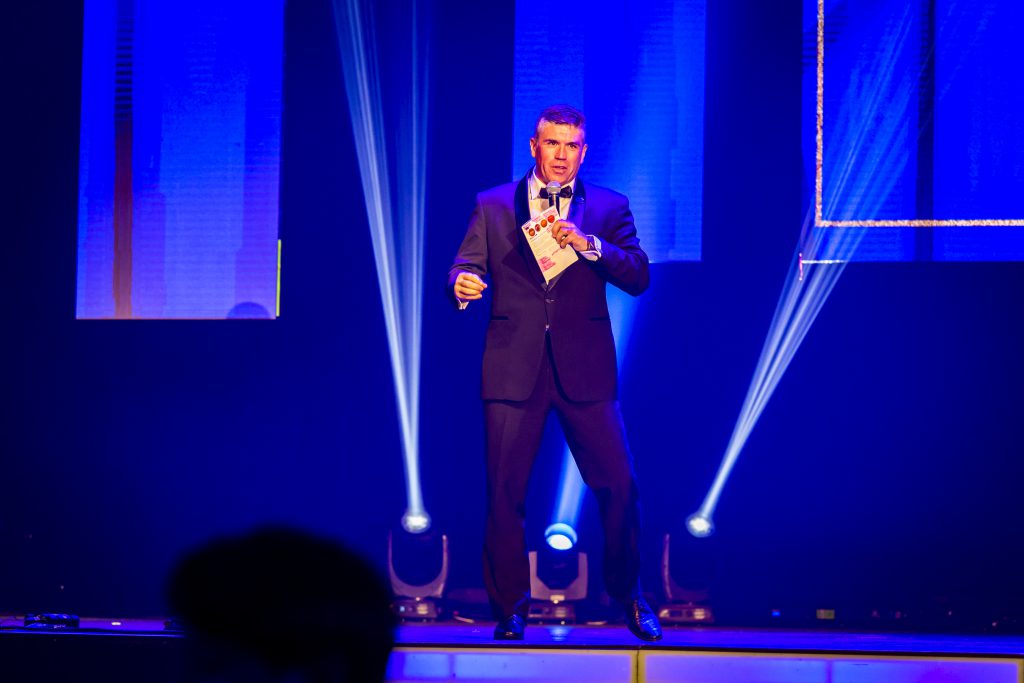 Save our Sons
"Your Auctioneer is Mark Warren, the best in the business. His efforts for charities such as "Save Our Sons" are well documented."  
– Alan Jones AO
"Recently, "Save our Sons" raised $600,000 (gross) for kids with the Duchenne's Muscular Dystrophy for their 2017 Gala evening at The Star. I was privileged and honoured to act as auctioneer and we achieved a live auction result upward of $270k (gross). We were thrilled to hear that we topped the auction result for the Gala evening. Alan Jones highlighted that this was, 'a phenomenal result."
Epilepsy Foundation
"My two eldest daughters, Kennedi and Montanna, are both affected by Epilepsy. Although controlled it's a cause very close to our hearts, and I include extended family, like Mark Warren, whose efforts for charity really should be recognised."
"His event introduction and skit were hilarious. His interviews with Greg Alexander, Brad Fittler and myself were off the wall funny, if not a little combative, which engaged and enthralled our 200 strong crowd."
"His clients and friends at Lander Nissan purchased a table then bought an auction item that Mark knocked down to $1,000. He then took it upon himself to write, collect funds, explain and perform a thoroughbred race of greats that was a showstopper and raised another $1,000 for our cause. He rolled up his sleeves and got his hands dirty for my family."
"The Epilepsy Foundation says thank you mate! As an MC and Auctioneer he is at the top of the tree".
Mark MG Geyer OAM (Random Westie)
Sam Kekovich is an absolute star and Julian Stewart is very special. Mark, you've done a great job!"
– Alan Jones AO