About Mark Warren
Auctioneer and Master of Ceremonies
Licence No: 20056243
Mark brings a unique set of skills to his auctioneering. He has proven himself as a broadcaster, adman, creative, media buyer and strategist. All this combined to offer an enjoyable experience with Mark as your auctioneer. His vast experience and great energy will be a great match for you and your clients.
Mark embraces his personal ethos of delivering outstanding and personal service by offering only the highest quality property auctioneering.
In early 2000, Mark completed his certificate of registration in Real Estate along with conducting the art of listing and selling property. Mark holds his Real Estate and Auctioneer's licence and is always working and learning to fine-tune his natural talent. Experience across all media space has been his only mentor. A good call comes naturally to Mark now.
He is a dynamic Broadcaster, MC and Auctioneer. His passion for charitable acts is undeniable and greatly appreciated across many charities and community organisations. This is what directed Mark to become an Australia Day Ambassador in 2016, 2017 and again invited to be a 2018 ambassador… humbled.
Mark is one of Australia's most dynamic Master of Ceremonies and most sought after Auctioneers due to his amazing skills at engaging an event audience. Need an Auctioneer? Mark is your man.
His work in community and charity is undeniable, the money raised on the back of his gavel well and truly runs into the millions. As an MC and/or Auctioneer, he is highly sought after and rightly so.
Mark has been MC and auctioneer on thousands of occasions…. Sports, community, various charity events. Mark has auctioned endless sports memorabilia including a Usain Bolt Nike running shoe which sold for $33,000 benefitting The Usain Bolt Foundation.
You are in excellent hands when you book Mark Warren to conduct your next event.
Testimonials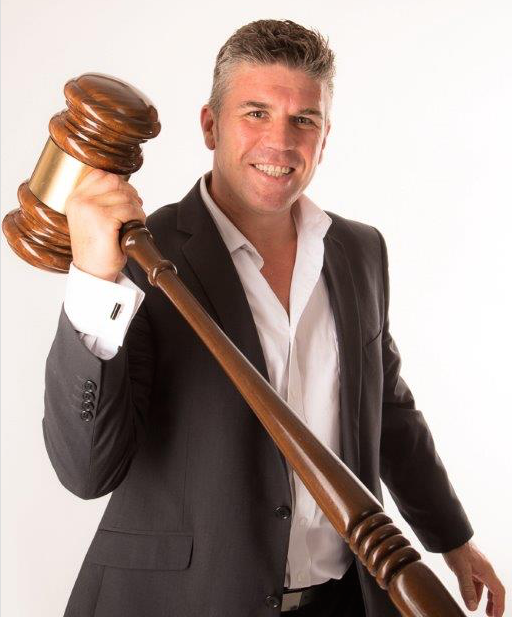 "Mark, Just a quick note to thank you for the amazing job you did tonight in raising funds for my cause….brain cancer. I'm sure you are aware that I organise and attend similar charity functions almost weekly and have done so for the last 20 years. I can honestly say that the job that you did tonight was exemplary. You have a knack of commanding attention from the audience but at the same time allowing them to go with the flow. Also, you were very entertaining!!! Many thanks. "
Dr Charlie Teo
Save our Sons
"I have seen Mark perform auctions on many occasions. He is everything you'd want in an auctioneer: engaging, a born communicator, tonnes of charisma and a big voice with terrific showmanship skills. Most importantly, he has an air of confidence and works hard to get results for his clients!

If getting a good result matters, then get Mark on your team!"
John Gibson
Managing Director, Locate & Negotiate
An MC can make or break your event! Just ask MG…
"My two eldest daughters, Kennedi and Montanna, are both affected by Epilepsy. Although controlled, it's a cause very close to our hearts, and I include extended family, like Mark Warren, whose efforts for charity should be recognised.

His event introduction and skit were hilarious. His interviews with Greg Alexander, Brad Fittler and myself were off the wall funny, if not a little combative, which engaged and enthralled our 200 strong crowd.

His clients and friends at Lander Nissan purchased a table then bought an auction item that Mark knocked down to $1,000. He then took it upon himself to write, collect funds, explain and perform a thoroughbred race of greats that was a showstopper and raised another $1,000 for our cause. He rolled up his sleeves and got his hands dirty for my family.

The Epilepsy Foundation says 'thank you', mate! As an MC and Auctioneer he is at the top of the tree."
Mark MG Geyer OAM (Random Westie)
"Mark Warren is a part of my family, a dear and very trusted friend. His work for charity as an MC and Auctioneer are simply Herculean. His presentation skills are second to none in my personal opinion. To utilise his skills, passion, enthusiasm and strength of character makes him a formidable asset."
Johnny Lewis OAM
"As a Broadcaster, there is no one more promising in Australia. As a Master of Ceremonies, he is already at the top of the tree."
Ken Callander,
Legend!