Warren Media Listens, Creates, Plans, Produces and Delivers Amazing Digital opportunities.
Digital is evolving as you read this space and your website is the key to your business front door! 
Get on board with your brand, and experience our "keep it simple" approach.
Search and SEO campaigns, Display Campaigns, Social Media, Connected TV (we are really excited in this space stay tuned zero wastage) Programmatic Campaigns, YouTube, Retargeted Campaigns, Web Development and Email Marketing. Warren Media & Co. is now able to deliver market first digital opportunities.
We are driven by relationships, we have industry leaders in this digital space at our disposal. Warren Media & Co develop effective media strategies rather than following media trends. Ask us how! We work with large scale budgets, equally we work and thrive on building small businesses. We are acutely aware the reactive nature of the retail space and the need to engage buyers in a 24 7 consumer world. 
Warren Media & Co. have access to a team of deadline driven digital junkies!
The media reported on NRL commentator Ray Warren's run-in with Snoop Dogg, which sparked an angry response from Warren. Warren, who had no idea who the US rapper was had co-commentators in stitches while telling story while calling game…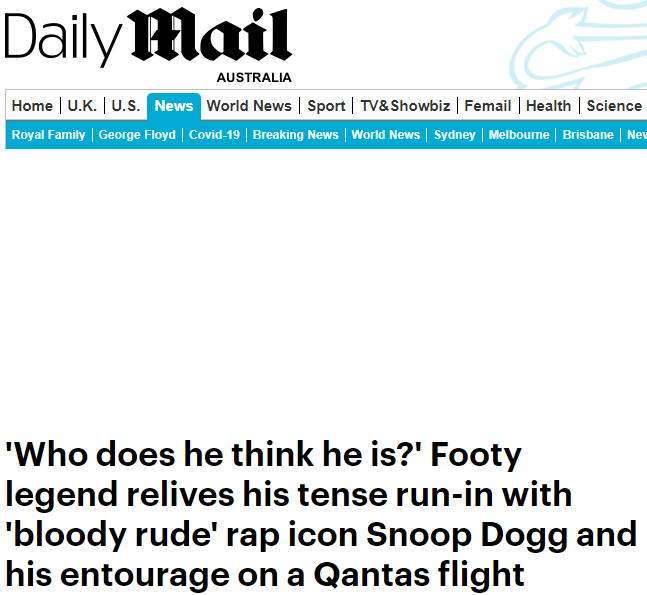 And we have fun while we do it... yes it's radio... but you just consumed it in the digital space!
Rabs Calls – Bluey The Decider
So for a little bit of fun have a listen here, also from an advertising space a glaring example of why radio in 2022 is a vastly different beast, as advertisers utilise the increasing power of digital radio as a component of their media purchase. Of course there are many ways to optimise your digital marketing spend so why not ask Warren Media how today!
LOCATE NEGOTIATE
SEAN GARLICK
LOCATE NEGOTIATE
RAY RABS WARREN